*** Please note that Google Chrome no longer supports the Unity Web Player. Please play these games in either Firefox or IE ***
[PRYSM] (2016)
Although the school semester was very busy with classes at full tilt nearing the end of the year, Jeremy Moore and I decided to participate in our schools 168 hour game jam. We ended up creating a fast paced, 1st person, multiplayer, arena-style shooter. The setting is a very bland, colorless world but the more combat that takes place, the more colorful the world becomes. This project taught me a lot about creating modular environments in a fast paced way, let me create two great gun props and had me balancing my time with my weeks regular schedule and creating of the game.
Fight and Flight (2015)

For the last few months, Jeremy Moore and I have been working on this game. It is a World War II themed infinite runner where the mission is to stay alive as long as possible. Fly through torturous obstacles like anti-air balloons and enemy flack but also keep the enemies off your tail by using the tail gun. Rack up points with the tail gun and fly as far as you can before you crash. Good luck! Find it on the google play store, right here!
Pavilion Pummel (2015)

In April, Massive Hawk was asked to enter a competition involving The Bank of New Hampshire Pavilion. We were tasked to create a game that could be anything we wanted as long as it somehow included the Bank of New Hampshire Pavilion's concert venue. Pavilion Pummel is what we created (and it won 1st place!) In this game you can choose your punk rocker and blast your way to the Pavilion's stage fighting through hordes of enemy aliens who have shut down the venue. There are also 2 other game modes where you fight for survival or hope in a car and race around the Pavilion. Play it here! 
Coming of Darkness (2015)

For the final game jam of the year at Southern New Hampshire University the prompt was "Lovecraft". We created a game that did its best to surround the player in H.P. Lovecraft's classic feeling of despair, fear and hopelessness. Complete short quests in order to take down the giant dark creature that threatens the town.
Purpose (2014)
After a 24 hour game jam, this game was born. The theme of the jam was "Catharsis" so in order to incorporate this theme we built a first person shooter where you were trapped in a small space with increasingly aggressive robots and the only way for a cathartic release was to figure out how to get out if the ship.
Mr Bones Revenge (2014)

Now that I have entered sophomore year of university (and that I am living with the lead programmer of Massive Hawk) I am laser focused on making more Massive Hawk games. Our latest creation is "Mr Bones Revenge" which we made for Halloween. I created all of the environment assets for this game, as well as Mr. Bones and his trusty bazooka. Play it here on Kongregate!

Pixel Commando (2014)

During a 48 hour "game jam" at Southern New Hampshire University, our team (Massive Hawk) made this game for the prompt 'command'. We Decided to go with a 2D player in a 3D space. I created all of the 3D assets seen in the game as well as the final boss! Play it here on Kongregate!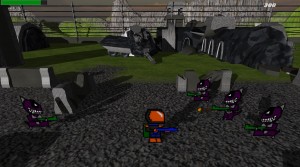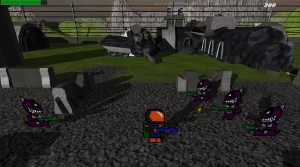 Drum Roll Please (2013)

Today I my team ("Massive Hawk") and I got together at Southern New Hampshire University's game jam. We busted this game out after being give the prompt of "Drum". I had the honor of creating all of the 3D assets for it. Check it out and have fun!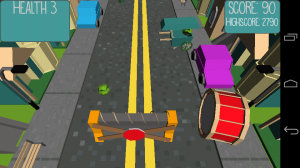 Point and Click Game
I recently made a "point and click" game similar to that of the popular game Myst. Walk through a room and enter the strange virtual reality. Play it here:
http://www.jamescowin.com/Desktop.html